Fashion Union
is the website I discovered after a bad experience with Missguided. I came across a pair of shorts I loved when
Fashion Union
was advertised on a blog and I've loved it ever since. I have got myself that pair of shorts, 3 jumpers, a dress and a pair of heels from there in the last couple of months, so I was really excited to be given the opportunity to win a £500 voucher to spend on their website!
Here is a little compilation of some of my favourite pieces the site has to offer for this turn of the season. Trust me, I had a lot of trouble narrowing it down!
1. Black Floral Mini Dress, £25- So gorgeous, perfect with a pair of thick tights and can be dressed both up and down!
2. Wine Woven Skort, £20- A real Zara dupe and such a gorgeous autumnal colour- perfect for the new season.
3.

Black Cross Over Buckle Peep Toe Platform Shoe, £25- I'm normally quite safe with shoes, but I think these are really different and could make quite a plain outfit something a bit special.
4.
Black Harlequin Inspired Statement Necklace, £10- I do love a statement necklace. This would look great with a little collared top.
5.
Floral Blazer, £28- this is stunning- It can be dressed with darker colours for this season but also would be lovely for next spring with brighter shade- lovely transition piece.
6.
Green Scallop Hem Strappy Ponte Bodycon Dress, £25- Normally, this would be a little daring for me but the colour is gorgeous- teamed with a leather jacked, black tights and heels and I think it would be great for a wintery night out!
7. Grey Panda Jumper, £18- You all know how I feel about animal jumpers, this really needs no explanation!
8.
Navy Boucle Oversized Biker Coat, £50- I love this. I think it's quite unique and would look really great throughout A/W.
9. Orange Jewelled Collar Blouse, £16- I love a good collar- minimal effort outfits are my favourite kind, I can just throw this on with jeans and I'm good to go! How amazing is that colour?
So if you, like me, are part of the etail-PR Blogger Network, you too would have been sent an email to be in with a chance of winning this really great prize! Just click
here
to have a go yourself and get a full run down of the rules.
I'm totally in love with all the things on my list and will no doubt be purchasing as many of them as possible, regardless of the competition! You may have noticed I don't really do this kind of thing but I thought this was too good of a prize to ignore, both for me and for all my lovely readers to have a go at too! Give it a go and link me to your lists- I'd love to see them!
If the competition isn't for you or you just can't wait, you can still take full advantage of their already low prices with free delivery for the rest of September!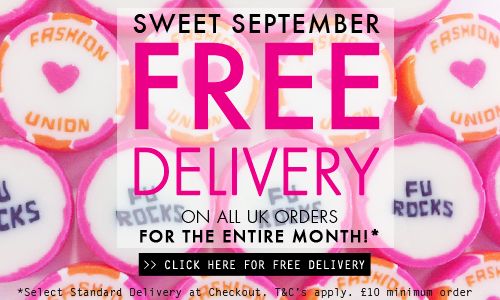 A little sidenote/ warning- I've recently gone a little bit mad in Superdrug and purchased so many new products I want to review for you, so brace yourselves for a bit of a beauty review avalanche over the next few weeks! Obviously I will try and break it up but just in case you were wondering!
Thankfully, bloggers block seems to have passed now, so I promise some fresh posts will be on their way soon!
Happy wishing and good luck if you're entering the competition! Let me know what you think of my picks- I'd love to hear your opinions!